You have decided to buy a purebred dog or are still hesitating between two and are wondering where to buy a dog?
Read this guide, in which you will find the places to buy your dog, with the advantages and disadvantages of each one.
The prerequisite before any adoption is to find out about the breed to make sure you make the right choice. You can read th article below to help you do so.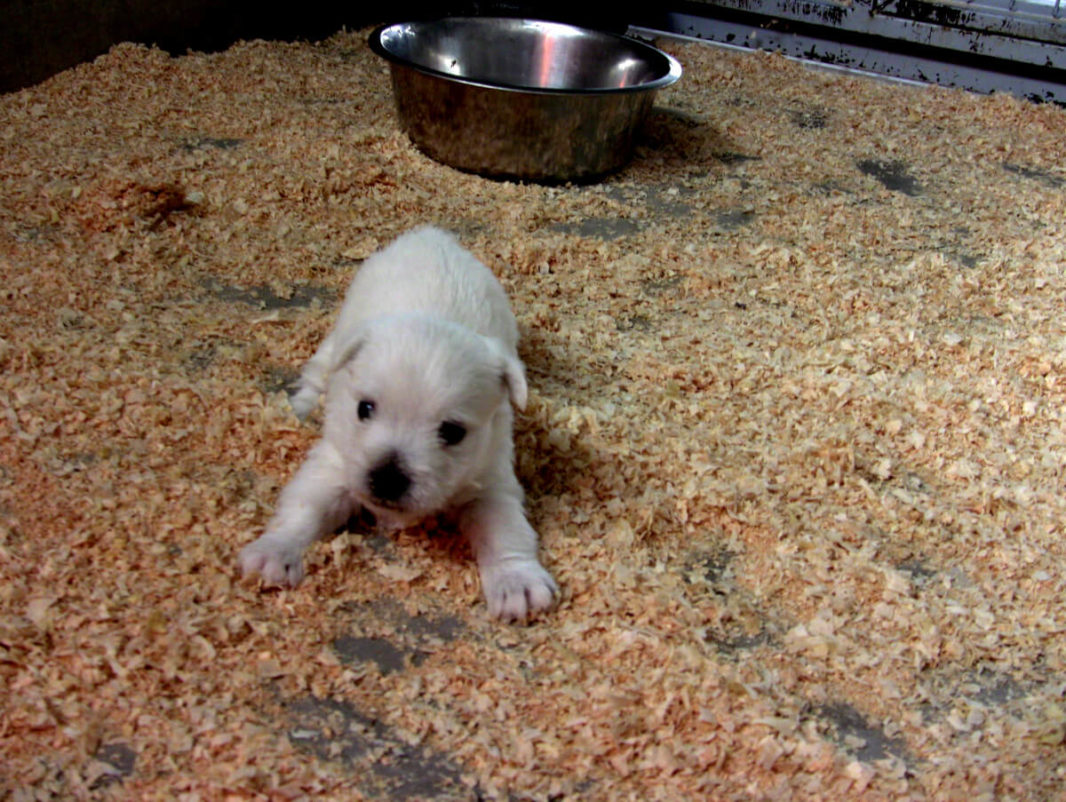 FAQ on buying a dog.
Can I buy a dog online in USA?
Yes. But I won't recommend this as there's a lot of scam. You should always meet the seller, the dog, the place where he was raised, his parents, ask questions, etc.
How can I buy a dog in USA?
– Consider adoption.
– Always visit the place where the dog was raised first if you adopt from an individual.
– Never buy from a pet store.
– Find a responsible breeder by visiting the kennel, asking him questions, meeting the dogs. Ask your veterinary.

How to buy a dog near me?
You can try to search for "buy a dog near me", "buy a dog + name of the breed + near me", "buy a puppy near me", etc. On Google.
Where is the best place to buy a dog from?
From a professional breeder close to your place.
Adopt a shelter dog.
The adoption of an animal in a shelter would be the 2nd preferred mode of adoption in the USA (23% vs 34% for breeders). 25% of pets in shelters are purebreds.
Here are the advantages and disadvantages:
Why buy a rescue dog?
You are doing a good deed, giving the dog a second chance.
You have a wide choice.
The fee is less expensive, covering veterinary costs, vaccination, identification and sterilization.
The staff will guide you to the animal that suits you best. Mom's parents went to the French shelter, thinking of adopting a very young dog. Luckily, the staff redirected them to an adult dog, which they fell in love with. From a certain age, one can no longer afford to adopt a young dog, who risks to find himself again in a shelter if his owners disappear…
The staff is also familiar with the behaviour problems and temperament of the dog. They will therefore be able to advise you better.
If it is an adult dog, it is already normally clean.
You are sure to get a dog in good standing (vaccination, identification).
Disadvantages of shelter dogs.
It is difficult to know the animal's past.
The animal may be traumatized.
The shelter may feel that you are not suitable to adopt a dog.
The dog will probably be an adult and there may be behavioural problems that need to be addressed.
The dog is spayed or neutered. If it is not, there is an obligation to spay or neuter it. This can be a problem if you want to have a litter.
If you want a well defined breed, you will have to be patient or even give it up.
Adopt a dog from a friend, your family or an individual.
You can find classified ads in newspapers, shops, internet or adopt from an acquaintance.
The advantages of adopting from an individual.
The cost: an individual is not allowed to sell a dog. He must therefore give it away for free… He can nevertheless ask for reimbursement of the costs incurred (identification, vaccination).
The puppy grew up in a family.
You can see the environment in which he grew up, his parents.
Disadvantages.
If you don't know the individual, there may be a scam. As specified above, an individual is not allowed to sell a dog. The international laws partly avoid animal trafficking that existed on the internet.
The puppy may not be purebred.
You will not necessarily be able to see the father, so be assured that it is the same breed.
The owner may not know who the father is.
Puppy millers often pretend they sell "family-raised dogs" or "home-raised dogs" in the newspapers or on the internet.
Buy a dog from a pet store.
In my country, France, selling dogs in pet store will be soon forbidden and that's a great news. I would recommend you never to buy a dog from a pet store. One of the main reasons is that they often come from traffic and puppy mills.
Nevertheless, her are the advantages and disadvantages:
Advantages of pet shops.
If you live close to a large city, you must have a pet shop nearby.
You can leave with the dog as soon as you have chosen it.
There are several breeds.
You can buy all the necessary accessories.
The prices are normally lower than in a kennel.
Disadvantages of pet shops.
It is the worst place, with the exhibitions, to buy a pet!!! Puppies often come from puppy mills. There is often traffic, with puppies bred "in battery" in Eastern countries, transported by truck, one on top of the other, the most resistant surviving… In short, we really don't want to feed such a trade!!!
The puppies are often weaned too early, because it's too cute and so much salesman in a shop window… and for the profitability of course.
The puppies live in showcases until they are sold, without any real socialization or learning about dog life.
We often don't know their true origin/provenance.
They are often carriers of diseases or defective genes. Have you ever come across these dogs, "too cute" according to their owner, who have their tongue hanging out to the side? Hint: no, this is neither normal nor cute…
How is it possible to buy a dog such as you would do shopping in a supermarket?…
Find puppies for sale from a legal and responsible dog breeder.
There are two types of breeding: professional breeding and amateur breeding.
Professional breeding or "amateur" breeding?
Before adopting me, Mom visited both types of breeding and this is what she advises you to do. "Amateurs" breeders in France like to call themselves "family breeders". But they actually make it for business, arguing they don't and are better than professional breeders…
Personally, Mom doesn't like that type of fake approach…
She was able to notice that the "amateur" breeding farms in the Landes were actually run by dog show enthusiasts. Selling part of the litters allows them to finance their expenses. Until then, nothing very bad except that… During the visit of one of these kennels, she was presented with a small westie female of a few months old who lived constantly locked up in a small room. Not really what one can call a family education, as this kind of breeding argues… As much to say that the poor animal ran and barked in all directions as soon as she was allowed to breathe the outside air…
It also means that you will be sold the least well-proportioned or "less pretty" puppies of the litter, to keep the most promising puppies in competition. This is exactly what was happening with this young female, for which the owner was waiting to see "if there was better" in the next litter. Might as well tell you that Mommy ran away!!! A dog is not a thing or commercial product.
Why buy a dog from a breeder?
The owner is a professional, but above all a professional of the dogs, their education and the breeds he breeds. It is in any case the case of the kennel from which I come…
You will be given advice to choose the breed that suits your lifestyle and character.
You will receive advice on education.
You will have a purebred puppy, with a pedigree.
You will receive a pedigree and health certificate.
You will get a puppy in good standing: identification, vaccination, deworming, pedigree.
Tests for genetic diseases are generally carried out.
The breeder scrupulously selects the parents for the litter.
The breeder will give you lots of advice on the breed, your puppy, his education.
The breeder is a true professional of the breeding. It is his job and he is trained for that. So he has a solid knowledge.
To select a good professional breeder, you can ask your veterinarian.
A serious breeder will be happy to hear from your dog.
A serious breeder offers a follow-up.
You are protected by a contract of sale.
The puppy is socialized.
You can see the father and mother of the puppy.
You can see the environment in which your puppy is growing up.
The breeder with whom I was born allowed Mom to come and visit me whenever she wanted, which allowed me to get used to her and develop my antibodies. It was really one more proof of the breeder's assurance of the quality of his "production". It also allowed Mom to see me grow from 1 day to 2 months!
Disadvantages.
This is the most expensive option.
The puppy is not raised with "a human family".
Conclusion.
Thanks to this guide, you should have a clearer idea of where to buy a dog.
As you may have understood, we rather recommend professional breeder. But the most important thing is to visit it and do not hesitate to ask lots of questions. A serious and passionate breeder will not hesitate to take the time to answer them!
If you would like to share your experience of adopting your dog, please feel free to do so in the comments below.
Do you have any other tips or questions?
For more articles on how to choose your dog and the character of the westie, visit this section.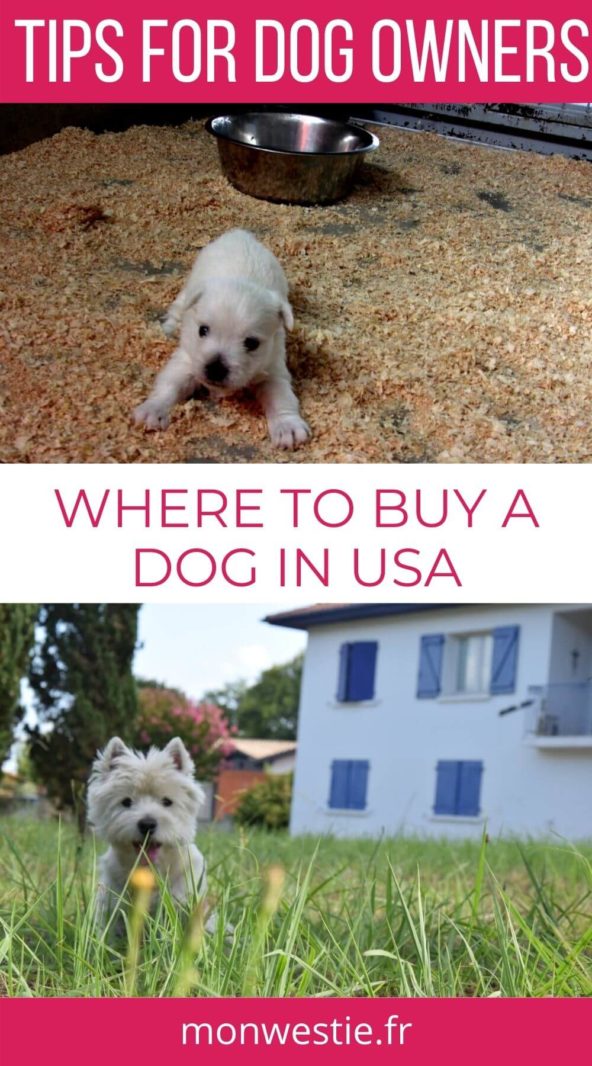 Where to Buy a Dog – How to Find Dog Breeders