Hiking Cinque Terre Italy with your dog is disconcertingly easy. In October 2016, when I went there with Mom, we were able to hike everywhere and received an incredibly warm welcoming.
If I had only one destination to recommend for traveling with your dog, it would be the Cinque Terre National Park in Italy!
In this article, you will discover:
Why it's easy to hike with your dog in Cinque Terre Italy.
My favorite Cinque Terre hike.
My favorite Cinque Terre village.
My favorite accommodation.
How adorable Italians are with animals.
And how, thanks to the kindness of the inhabitants of Sestri Levante, I was able to find Mommy who had gotten lost!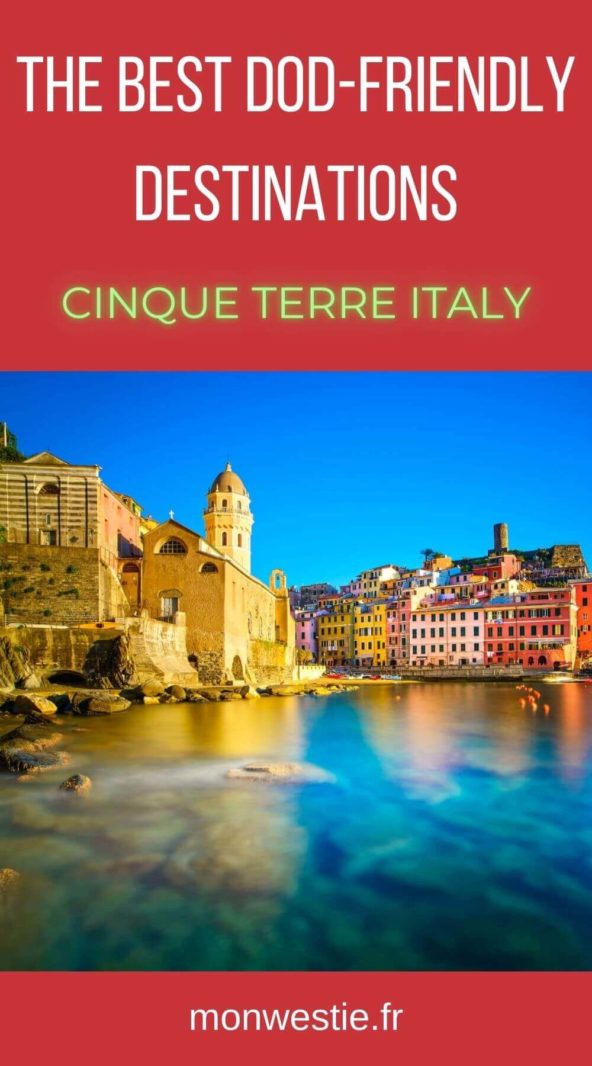 FAQ on Hiking Cinque Terre.
Can you hike cinque terre in one day?
No. You need several days if you want to hike the whole Cinque Terre coast.
How to hike Cinque Terre?
The best way is to stay in one of the 5 villages then start the hike from there on morning and return by train. Or do the opposite, so you changed hotel on morning then hike once you moved.
How long to hike cinque terre trail?
You need minimum 4 days if you want to complete the whole trail.
What shoes to wear hiking cinque terre?
You should wear good hiking shoes as the trail goes through the mountains and can sometimes be hard.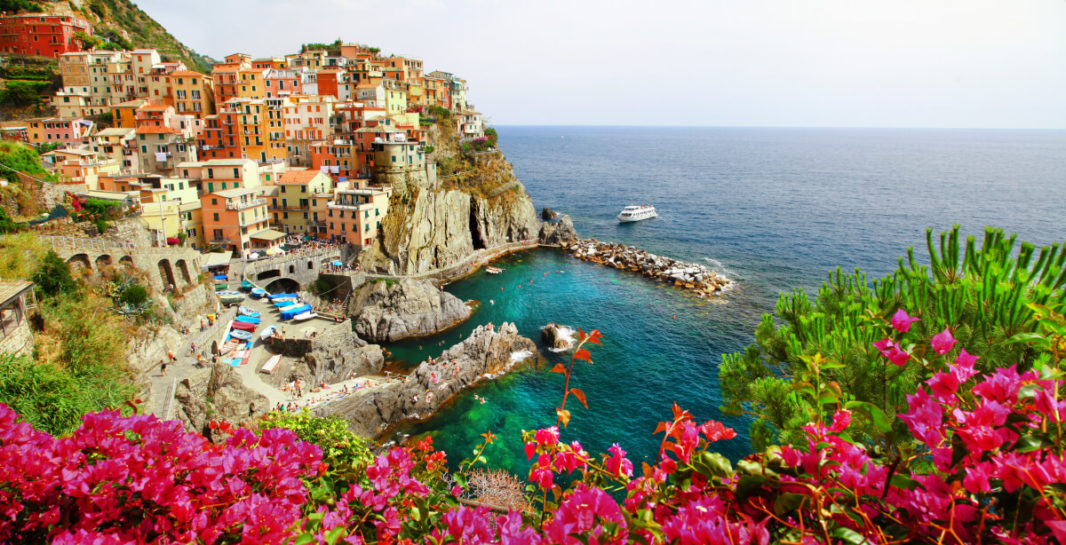 Hiking Cinque Terre with a dog is very easy.
Hiking alone, with your family or your dog in Cinque Terre is very easy. The trails are extremely well marked, the information is easy to obtain, you can go on foot, return by train or the other way around. And all trains are accessible to dogs!
You can therefore go from one village to another without great difficulty by hiking all day long and taking your time.
If you want to book your ticket in advance, here is the link to the official website for European trains.
If you have a Eurailpass or Interrail, you need nothing more for Cinque Terre trains. It is normal trains that don't require any reservation. But if you need a fast train ticket to/from Cinque Terre, here is the link for the Eurailpass reservation, and here for the Interrail reservation. From these websites, you can also buy your Pass.
NOTE: Mom has worked as a commercial manager and trainer for the French railway company for 19 years, so she perfectly knows the train rules.
My favorite Cinque Terre Trail.
My favorite hike was surely the one from Monterosso to Corniglia, passing by the majestic Vernazza. We were gratified by a magnificent sunset over the ocean.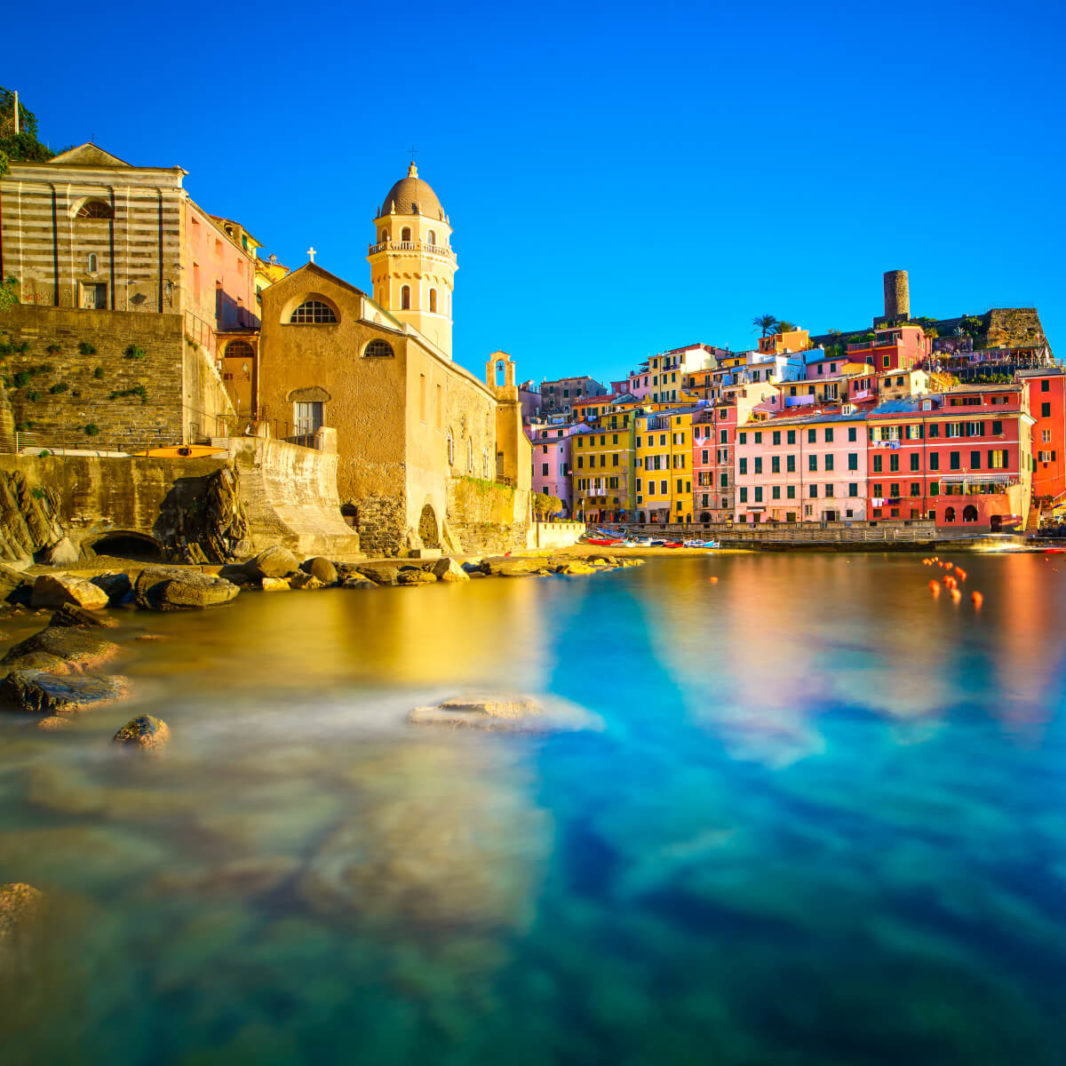 My favorite Cinque Terre villages.
How can one not fall in love with Manarola, even when one is a little westie? Its magnificent blue waters make you want to swim!
But I really enjoyed wandering through the quiet streets of Porto Venere, with its views of the islands of Palmaria, Tino and Tinetto, its beautiful church and its fortress in the heights. I will return to it with pleasure at the end of our hike from Riomaggiore.
I think Mom especially liked to sit on the terrace of a café to drink a cold beer or a Viennese coffee while I was wandering around.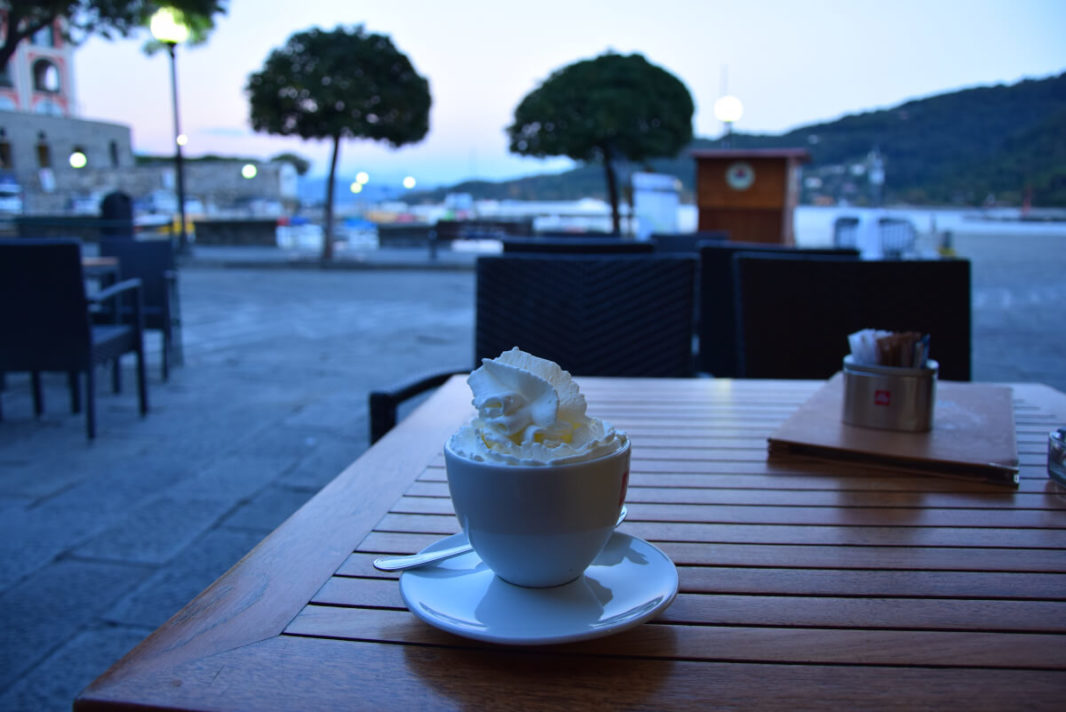 Where to stay in Cinque Terre?
We have preferred to stay in different villages so that we could leave for our hike on early morning without catching a train. Nevertheless, considering the numerous trains, you can choose one or two places to stay only.
Mom will surely agree with me: our favorite accommodation was the Hostel Perla Del Levante, in the heights of Framura. And when I say "heights", prepare your legs…
Of course, the surroundings were nice with all the villages perched one above the other and the sea view from the hotel, but what we loved was the incredibly warm welcoming. The family loved me and they gave me little treats. They also gave Mom plenty of local specialties, both to eat and drink.
If there is an address not to be missed in Cinque Terre, it is Perla Del Levante in Framura!
The incredible kindness of Italians.
Ah, but how adorable these Italians are!!!
Everywhere we were going, I was very welcomed. Everybody was nice to me, stroked me, talked to me, gave me sweets…
And then, incredible as it may seem, they left water bowls available in front of their houses and stores. There was no risk of me dying of thirst.
It was also the first time I saw a store that made ice cream for dogs…
Mom's enormous stupidity.
Well, I still have to tell you… This idyllic trip almost turned into a nightmare!
It's better if I tell you. Mom would tell you that she lost me, but it's not even true: Mom got lost. I was at the place where we were supposed to go…
We were on our way back home. We had a train connection at Sestri Levante station. So we went on a track away where our second train was. When Mom saw that we had more than an hour's wait, she decided to visit the town.
So here we are, we're going along the waterfront, me in freedom as usual, Mom doing her shots. We take a long walk, go to the Baia del Silenzio, visit a church. Then Mama explains to me that we have to hurry to catch the train. She tells me several times. As if I was stupid…
Suddenly, a gust of wind causes a deafening roar from a coffee shop sign. I was so scared that I started running, running, running… I think Mom was just as panicked as I was to loose me: we were not taking the same path as we were going and she didn't know exactly where the train station was.
So I ran, ran, ran, ran… Miraculously, I found the station. I kept running towards the remote platform, that famous train to Genoa that I was supposed to take with Mom. She had to wait for me inside…
The step was high, but I managed to jump and climb on the train. I was too afraid that Mom would leave without me… And I started going through the cars one after the other, but still no Mom…
Just before the train left, some passengers signaled my presence. Railway employees came to pick me up and take me back to the station. The train left without me…
All of a sudden, Mom came over. She told me that she had looked for me everywhere, on foot, on a scooter, stopping strangers, taking crash courses in Italian. In reality, I'm sure she got lost and couldn't find the train station. Why else wouldn't she meet me where we were supposed to be? Ah, these humans…
Mummy would like to warmly thank the inhabitants of Sestri Levante. Thanks to their incredible mobilization, she was able to find me quickly. A lady sent text messages with my picture to all her friends and acquaintances, a young couple travelled around the city with their dog to find me. It was finally one of their many friends mobilized by them who saw me running past the station.
Mom was crying when she arrived. She was very moved to find me and wanted to give me lots of kisses. I didn't want to. I sulked and turned my head; that will teach her to get lost without me!
Conclusion.
As you have just read, our wonderful stay in the Cinque Terre could have ended very badly. Mom therefore recommends that you invest as she did in a hands-free leash. That way, no more need to watch me when she takes pictures, or fearing to get lost in the crowd of a traditional festival.
Click here to order the same canicross belt as ours and read customer reviews
Or read my article to know everything about the canicross belt here. The canicross belt has a special leash and you will only need to link it to a harness.
Hiking Cinque Terre as a dog was an unforgettable experience and I really advise you to try it! According to us, Cinque Terre is THE pet friendly destination in Italy!!!
For more articles on travelling or hiking with your dog, click here.
This article contains compensated links. As an Amazon Associate I earn from qualifying purchases. Consult the disclaimer on the site for more information.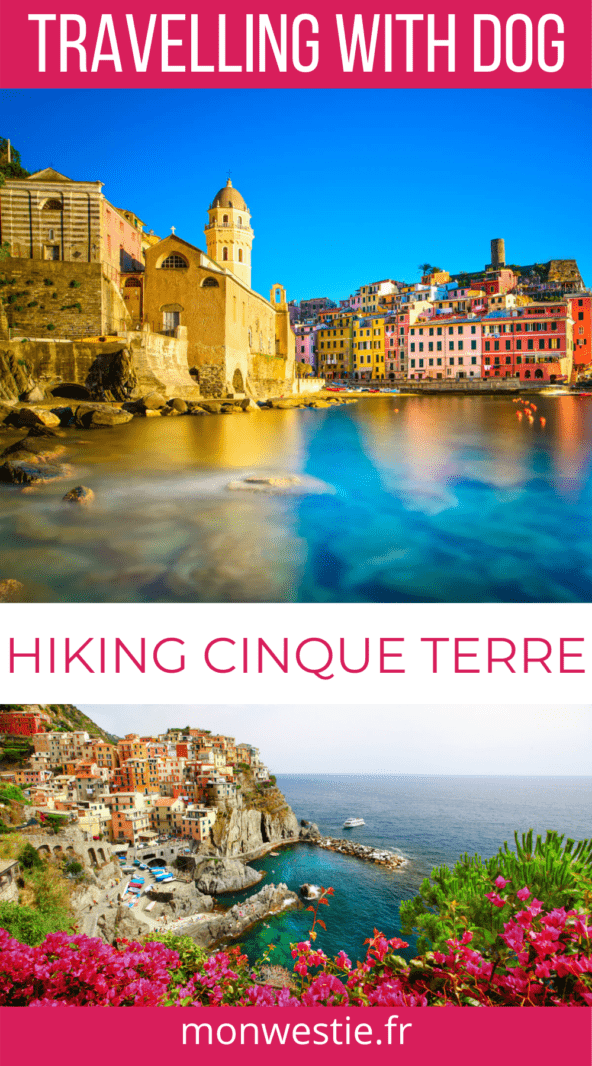 Hiking Cinque Terre with a Dog: THE Dog Friendly Vacation