Travelling by train with your dog is a fabulous experience, allowing you to strengthen the bonds even more.
With Mom, I have the chance to hike and travel. We regularly go to the mountains for hiking and to nearby Spain. We even went to Italy in the Cinque Terre, taking the train.
Train travel in Europe with your dog is not very complicated; but you have to know what the the trains that allow pets and the exact rules.
Mom knows the subject better than me, having worked at the French Railway Company for 19 years and its student seasons! It will be easier for her to write this article.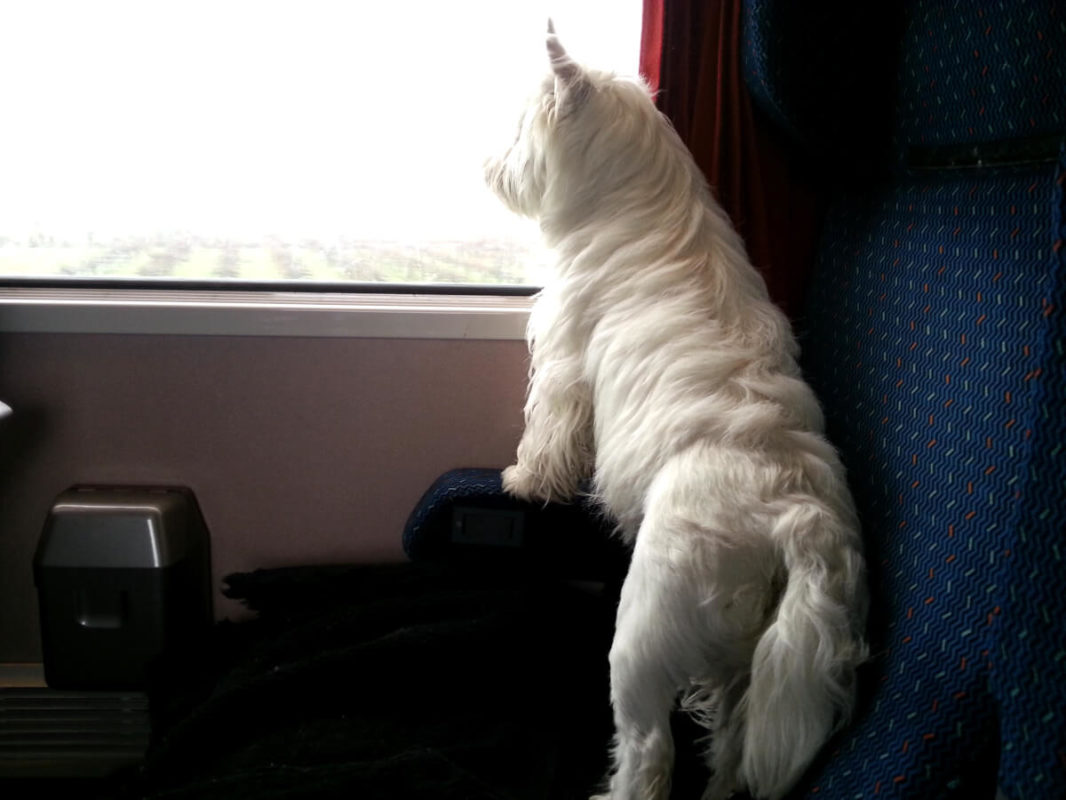 Taking the train with a dog is not a right in the French trains.
What does it mean exactly?…
Even if you are in legal status and have bought a ticket for your dog, taking the train with a dog is just a simple tolerance in the French trains. If other passengers refuse to allow your dog and it is impossible for you to move to another seat, you may be refused access to the train.
In practice, it is rare for other travelers to object to the presence of an animal. If you follow regulations, you are unlikely to be unable to board your train.
Is there an exception to this tolerance?
Yes, a guide dog of a person with a disability is always accepted, even if other travelers are opposed to it.
A few years ago, there was a huge scandal, with a disabled traveler whose guide dog was refused in a sleeper car because it was impossible to replace the traveler.
Conclusion: your guide dog cannot be refused aboard a train.
How do I buy a dog train ticket?
The easiest way if you travel with a "classic" train – TER, TGV, Intercity – is to buy the train ticket for your dog at the ticket office. The pet ticket is also available on SNCF automatic machines.
On the Oui SNCF website, you can book your pet's ticket at the same time as your own in the "more criteria" section.
If you travel with the low cost TGV OUIGO, you must buy your ticket for your pet on the site, within the "my reservations" section. You can buy it up to 1h30 before departure. If you decide not to take your pet with you, its ticket is not refundable.
If you have a Eurailpass (USA) or Interrail(UK and Europe), you only need to buy a reservation for you and a ticket for your dog if you travel with a TGV. You can buy your pass here for Eurailpass, here for Interrail. Then, buy directly your reservation and dog ticket from Oui SNCF.
On TER and Intercity, you will only need to buy a ticket for your dog. The low cost TGV is not a right choice for you as there's no specific discount for Eurail or Interrail Pass owners.
Is the transport of animals alone allowed at the SNCF?
No. SNCF does not offer a service for transporting animals alone.
What are the trains that allow pets in France?
It all depends on the size of your pet and the type of train.
TER, Intercités, TGV Inoui.
Small dog of 6kgs or less: in SNCF jargon, it is called "small animal in a container". This bag or basket must measure a maximum of 45 cm x 30 cm x 25 cm. It must be placed on your lap or at your feet. It costs 7€.
Dog over 6kgs: It must be kept on a leash and muzzled. He travels at your feet. His ticket is equivalent to 50% of the price of an adult ticket (mileage scale). For a short trip, it may be more interesting to buy such a ticket for a small dog than the animal ticket in a container.
Personally, I totally fell in love with this backpack/roll around pet carrier. Of course, it also exists in a color for boys.
Roll Around Travel Pet Carrier – Med Red/back
TGV OUIGO.
Since December 13, 2020, the rate has been standardized for dogs on OUIGO. Whatever the weight of your pet, the ticket is 15€.
Similarly, it is now only one animal per adult traveller.
Prices for guide dogs.
Guide dogs travel for free.
What are the trains that allow dogs in Europe?
It all depends on the country and the type of train.
For example, when we traveled to Italy, Jahan didn't need a ticket and traveled for free.
For other trains in Europe, visit sncf.com here.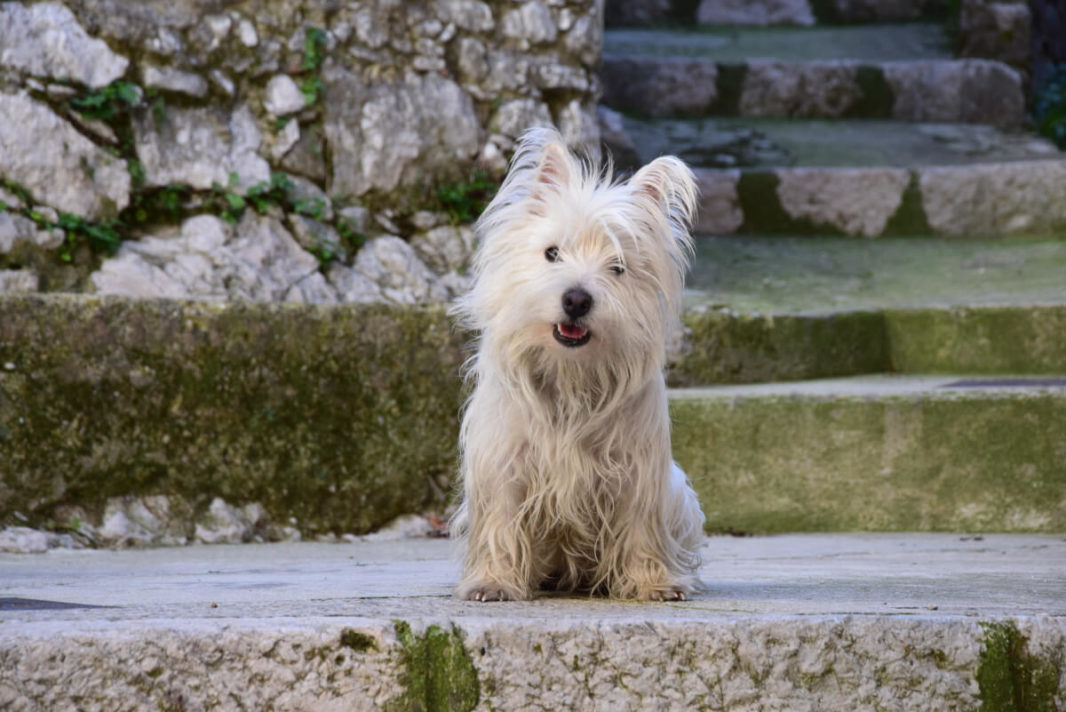 Can we take a dog on the Eurostar?
No. On Eurostar, only guide dogs are allowed.
What papers do I need to travel with a dog on a train?
If you live in France, in addition to the dog train ticket, you must travel with his or her identification documents.
And to travel with my dog throughout Europe?
Your dog must have a passport!!! Indeed, most European countries require rabies vaccination. The vaccine and booster shots must be on his passport.
The free circulation of people and goods throughout Europe does not mean that the same applies to pets .
Are there forbidden dogs on board the trains?
Yes.
The OUIGO website specifies that "category 1 attack dogs (Staffordshire terrier or American Staffordshire terrier more commonly called Pitbulls, Mastiff, Tosa) and all wild animals (dolphin, pony, panther…) are not accepted on board OUIGO." You are warned : it is forbidden to take your dolphin or panther with you on a hike in the Cinque Terre or visit the Basque Country!!!
Conclusion.
Travelling by train with a dog is much easier and safer than travelling with your dog on a plane.
If you observe the few rules outlined above and know what are the trains that allow pets, you should be able to take the train with your dog with complete peace of mind.
Have you ever travelled by train, in France or in Europe, with your dog? Share your impressions in the comments below.
For more articles on traveling with a dog, visit this section.
If you need a harness for your dog, consult this guide. If you need a hands-free leash, consult this one.
This article contains compensated links. As an Amazon Associate I earn from qualifying purchases. Consult the disclaimer on the site for more information.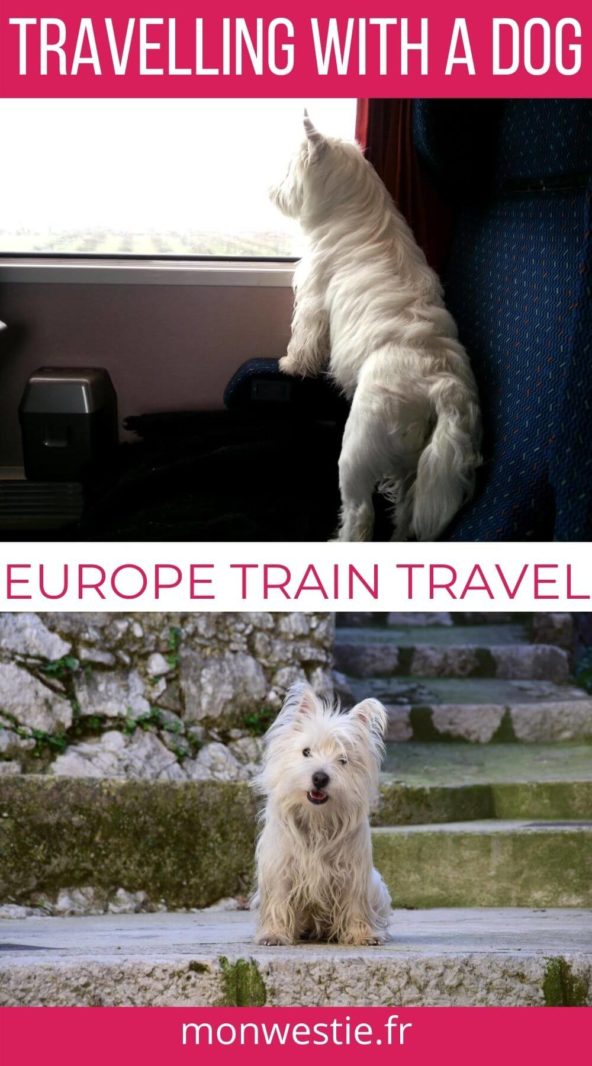 What are the Trains that Allow Pets in France and Europe?