Westie grooming is a matter to be taken seriously if you want to preserve the quality of his coat and avoid skin problems. You should only ask for the westie cut to preserve the hair.
In this article, I will tell you everything about:
Westie's hair.
the westie cut.
the regular maintenance.
useful accessories.
My westie cut.
Mom loves it when I'm full of hair, but she loves my cute westie cut more and more.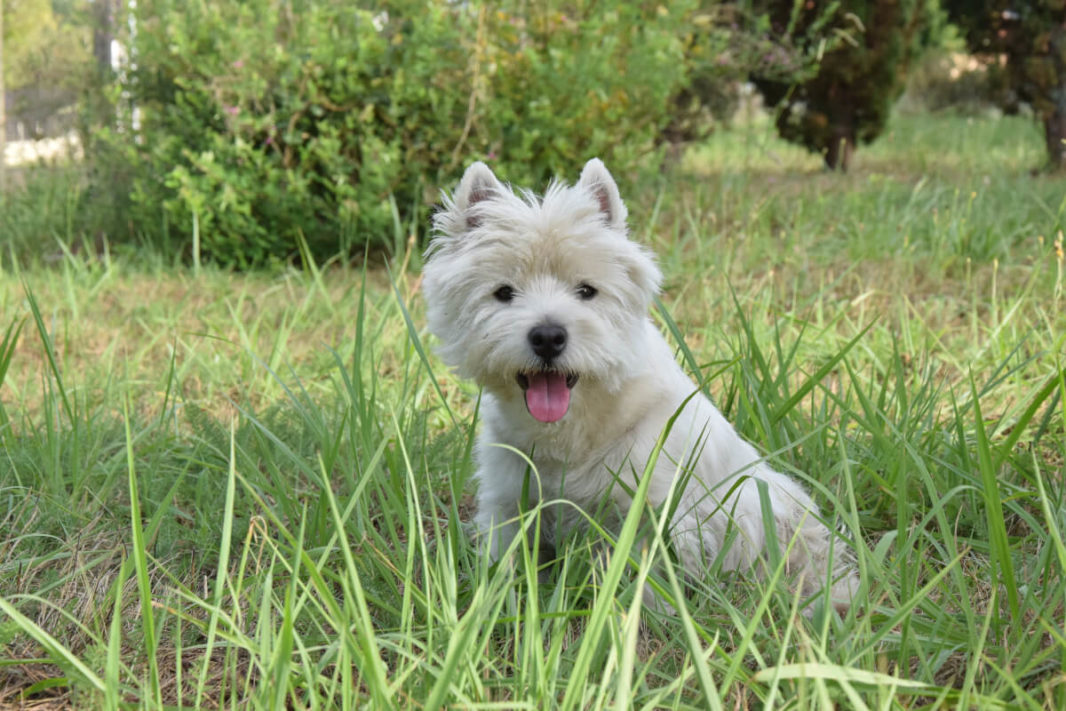 Westie's hair.
When I browse the internet, I realize that there's a lot of confusion about who we are…
Some people are looking for a black, white or red westie… But we westies, we are white and only white!!! By the way, it is indicated in our full name: "West Highland White Terrier", meaning White Terrier of the Western Highlands (in Scotland).
There's a lot of terriers but only westies are the white terriers!
I will tell you soon how our race was born…
I also notice that some people think we are curly. They probably confuse us with a bichon frisé and it is true that some of us have a hair that is not quite up to the standard…
The natural hair of the westie is double, with a lower layer of soft hair and an upper layer of hard hair.
How to make the westie cut?
You will find tutorials to do the westie cut on the internet, but I really advise you to go to the groomer for a real westie grooming!
A serious groomer who knows his job will not mow your westie: he will pluck!
But my dog will suffer if I have him plucked!!!
Rest assured, hair removal is absolutely painless! It simply consists of removing dead hairs. Some hairs are removed, while in other places other tools are used…
My advice: Leave it to the professionals and choose one who really does hair removal!
I don't like going to Antonin's to get plucked. In fact, last time I yelled at him. But that's just because Mom leaves me alone with him and it's long. Otherwise, I like Antonin. I even give him kisses to coax him when he stops to scold me for gesticulating…
Why does westie need to be plucked?
Westie depilation preserves the hard hair of the upper layer.
If you have it mowed, the hair will become increasingly soft, curly and dull .
How often I should make westie grooming?
It's a personal choice.
Mom loves my longhair look that fits my crazy temperament. My hair doesn't grow very fast. Mom only has me depilated once a year, before the summer so I don't suffer from the heat.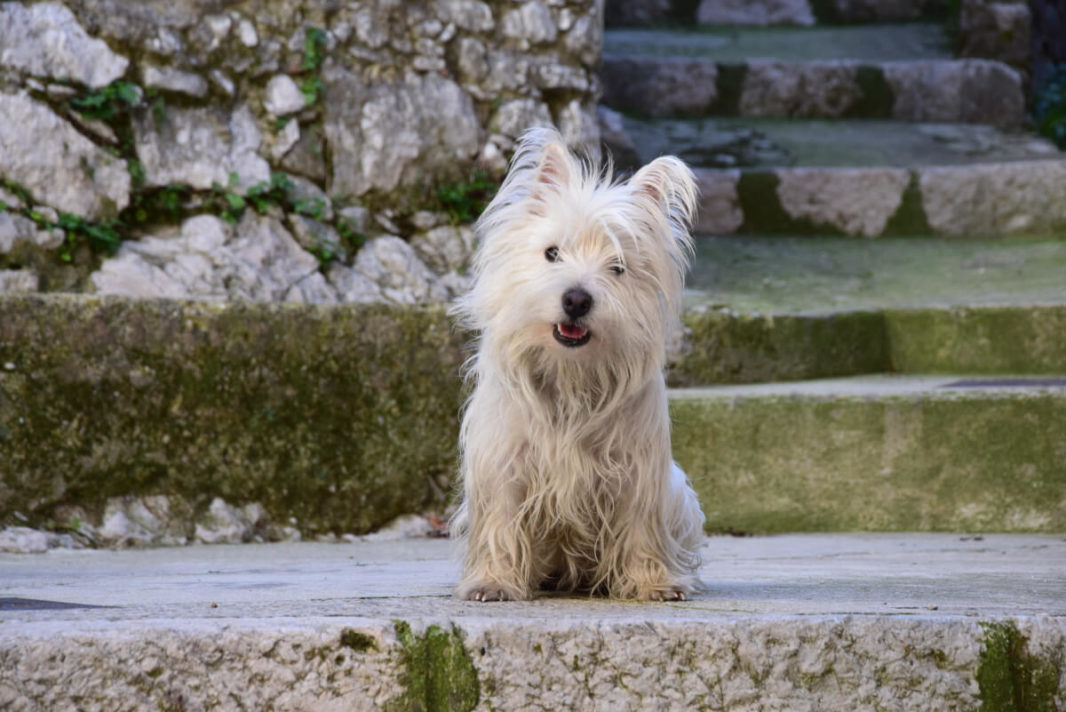 How do I maintain the hair on my westie on a daily basis?
There are special brushes that are very effective in removing a large part of the dead hairs.
This regular grooming – it is advisable to do it every day, but once or twice a week is already not bad – allows you to have a beautiful coat every day and limits the time spent at the groomer. As the hair is regularly untangled, it avoids having to cut it and that knots form.
Below is the official FURminator tool. Check the website for the right one, as it depends on the size of your dog and the type of hair. Westies are small dogs with short hair.
FURminator deShedding Tool for Dogs Small Dog Short-hair
Which shampoo for a westie?
Mom had bought my first shampoo, from the Beaphar brand, at the vet. She now buys it online. It's the same and much cheaper! She also bought a big can, so she does not need to order often.
For USA, you can buy this special bio high-rated shampoo. It can be used for both whitening white dogs and enhancing other colors, has a very pleasant texture, it smells very good and does not itch.
Below is the medical shampoo of 1-800 PetMeds for white dogs.
Be Bright White Shampoo 16 oz
How often should you give your dog a bath?
It is recommended to give your westie a bath once a month.
Of course, if it gets particularly dirty, you can give him a simple water bath.
More than once a month, you damage the protective oily layer of the epidermis. The westie being very prone to skin problems, you can imagine that it is not to be done!!!
Conclusion.
You now know everything about westie hair care, westie grooming, westie cut, shampoos.
Feel free to share your experience with us in the comments below.
For more articles on your westie's care or your dog in general, see here.
Don't forget that your dog's health depends on his bowl and that, if he is prone to skin allergies, there are very effective kibbles available online.
This article contains compensated links. As an Amazon Associate I earn from qualifying purchases. Consult the disclaimer on the site for more information.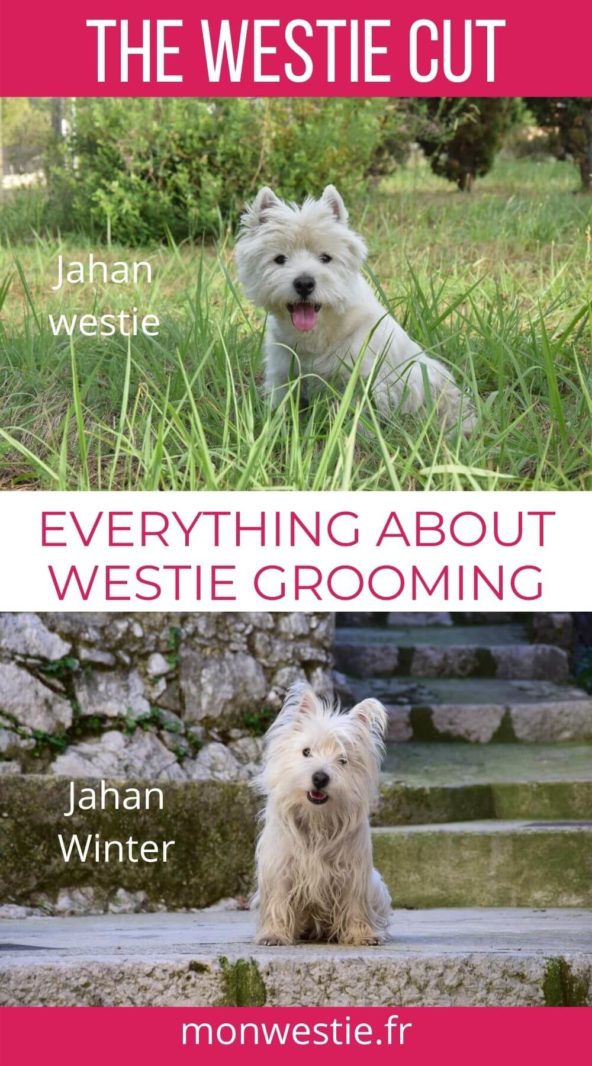 Westie Grooming – How to Maintain the Westie Cut?