Bidarray France is a small municipality located in the province of Basse-Navarre in Basque Country, about twenty kilometres from Saint Jean Pied de Port.
Its privileged location on the banks of the Nive and its tributaries, and in the middle of several famous Basque Pyrenees mountains such as Baïgura, Laina, Esteinumendi, make it an ideal place for sporting activities such as rafting and hiking Basque Country.
Here is a video made during a very beautiful hike from Bidarray. You can find its trace on the French Visorando version under the name "Penas d'Itsuchi et Aritzacun depuis la ferme Achuria".
In this article, you will find:
The practical information to prepare your hike and/or your Basque Country tour, including the technical facts for the hike and the gears you need.
The description of what you will see.
A tip for non-hikers who want to see the panorama.
The video of the hike.
Hiking Basque Pyrenees is one of our favorite activities here.
Although I am a small westie, I am a very strong dog, able to walk the whole day in the mountains.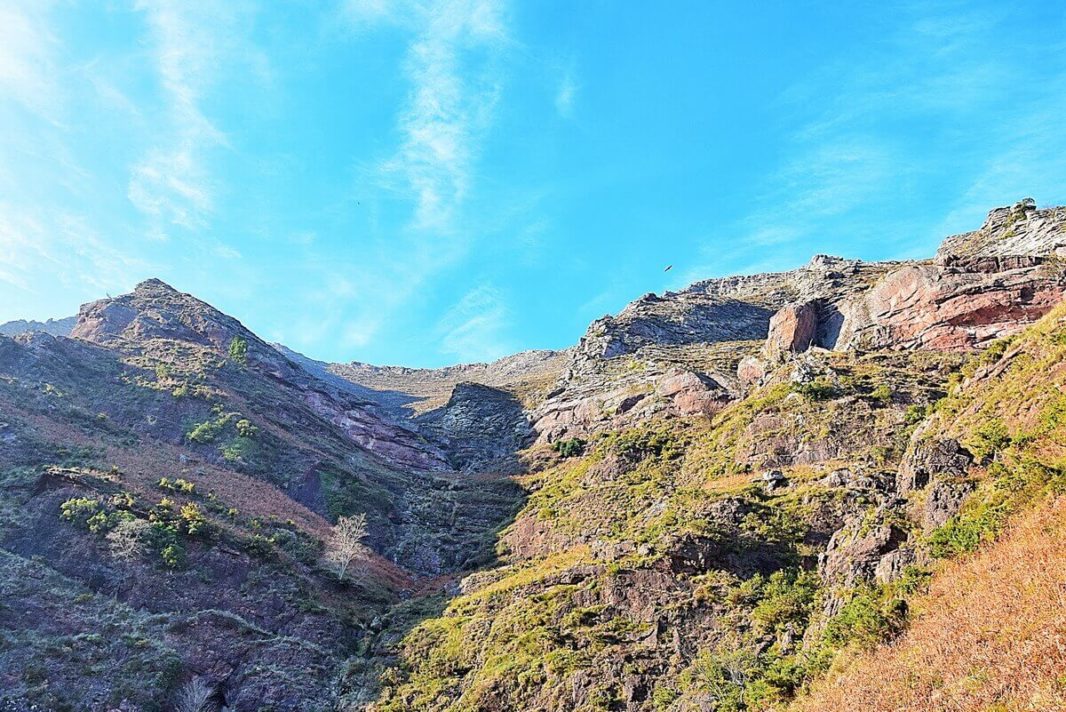 Practical information.
Is this hike in the Basque Country for everyone?
No, this route is quite physical, with scree crossings. If like us, you do the variant via the GR10, take it instead on the first way. It is less dangerous when climbing and you will be less tired than at the end of the hike. There are other routes, much easier and accessible with children.
Are there any other special precautions to take?
Yes: plan a lot of water, 3/4 of the route being exposed. Do this only in dry and clear weather.
Which station and airport are closest to Bidarray?
There is a railway station in Bidarray, called Bidarray-Pont-Noblia, on the TER line between Bayonne and Saint Jean Pied de Port.
The nearest airport is Biarritz.
Use the links below to find the best flights, trains and/or rent a car.
Useful websites to book your transportation.
Flights.
Depending on where you come from, I recommend you to use my favourite airline company, Qatar Airways , or the Skyscanner's search to find the best deals. Click on the name of the company to book your flight.
Note: I get commissions for purchases made through links in this post at no extra charge for you.
Trains.
If you are based in the USA and need a Eurailpass, click here.
If you are based in Europe and need an Interrail Pass, click here.
If you only need a TGV (to Bayonne) or regional train (to Bidarray Pont Noblia) ticket, click here.
And don't miss our guide below to learn how to travel with your dog in France and Europe.
Do you need a visa?
Where to stay in Bidarray? Hotel Ostape Bidarray.
If you want to stay in Bidarray itself, I highly recommend the beautiful Hotel Ostape.
Nestled on a hillside, this beautiful 5-star inn is housed in a 17th century mansion and is decorated with antiques.
It has an outdoor pool, a hot tub and a restaurant with great food.
Click here to check the price and availability for your trip
Where to stay close to Bidarray?
For a more family-like welcoming, I recommend you to stay in Ossès Saint-Martin d'Arrossa, at the Hotel Eskualduna in Katina's house.
This 2-star hotel, run by the same family for 4 generations, is located 2 minutes from the Ossès Saint-Martin d'Arrossa train station.
In addition to the welcoming and the nice rooms, you can enjoy the indoor heated swimming pool, the sauna and the whirlpool.
The restaurant offers a very nice menu, with hearty and beautifully presented dishes. Although the place is popular with groups for lunch, the premises are well separated and you won't be bothered.
Click here to check the prices and availability for your dates
Technical data of hiking Basque Country from Bidarray.
– Level : difficult up to Artzatey Pass (GR10).
– Possible with children : no.
– Profile: Experienced hiker because there are many passages where you have to "put your hands" / walk on unstable scree. CAUTION: There are regularly fatalities in the particularly dangerous area of Pyrenees GR10.
– GPS track: Visorando application. Name of the hike: Penas d'Itsuchi et Aritzacun depuis la ferme Achuria.
– Technical characteristics: 15,5kms, +668m., 6h.
– Start: Bidarray, Achouria farm.
– Hard passages: landslides well after the cave of the "Saint qui sue" until the 1st pass. From the Mehatze Pass to the Itsusi penas path (the road is very, very long).
Find the GPS track and the complete description on the Visorando app here.
Hiking Basque Country equipment.
The best imperative and minimum hiking gears for you.
Click on the links or pics to order the recommended gears.
These hiking gears are the one you should always have with you when hiking in the mountain.
Best hiking gears for your dog.
Most interesting passages of this Bidarray trail.
Starting point to the cave of the Saint qui sue,
arrival at the Col d'Artzatey and up to the Col de Mehatzé,
restarting the trail at the penas of Itsusi.
The fauna of Bidarray.
You will surely encounter goats (some wild) and sheep, half wild Basque horses (pottoks), European griffon vultures and Egyptian vultures.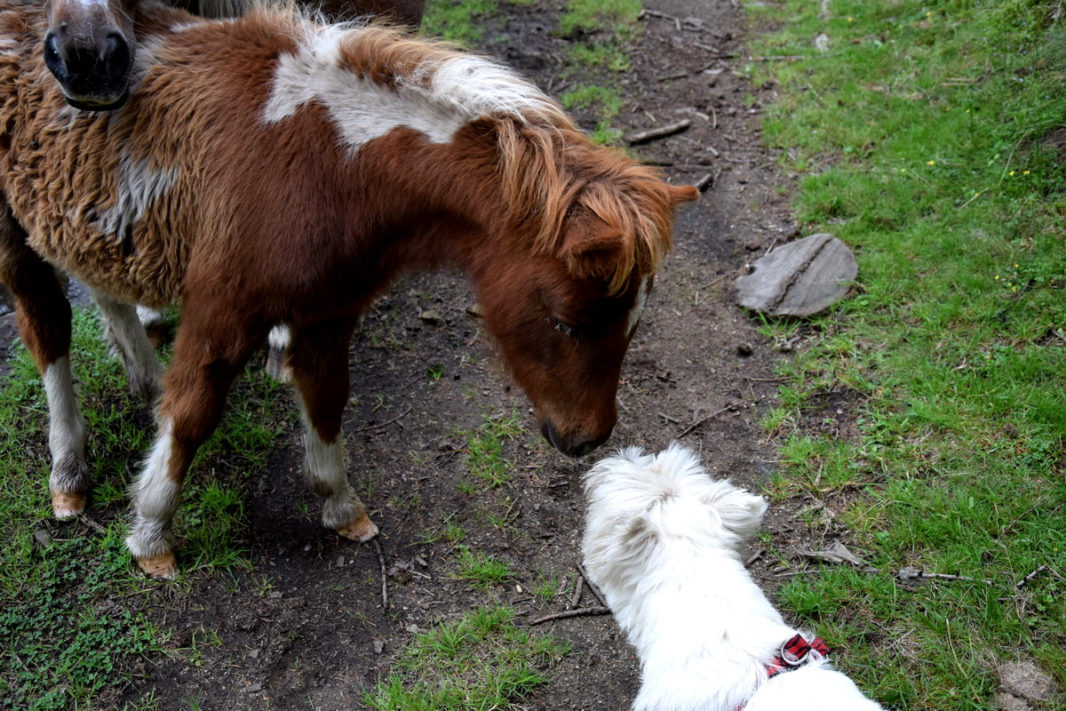 The flora of Artzamendi.
There is wet moorland to heather and heather Saint Daboec.
For non hikers who want to see the panorama.
Follow the direction of Itxassou / Pas de Roland and go up towards Artzamendi.
Park at the Mehatse Pass car park and walk away from the ocean (towards the mountains).
You can very easily go to the Col d'Artzatey.
Nota.
I did not go to the abandoned village of Aritzacun / Borda. I was too tired!
Video of penas Itsusi hike.
If you are a seasoned hiker, I really recommend this wonderful hike from Bidarray.
You will have a great day and will not regret it!
Conclusion – Hiking Basque mountains in Bidarray.
If you are a seasoned hiker, I really recommend this wonderful penas d'Itsusi hike, starting from Bidarray.
You will have a great day and will not regret it!
There are other easier routes for penas d'Itsusi, but I have not yet covered them.
For more articles about traveling or hiking with your dog, check this page
Save on Pinterest for later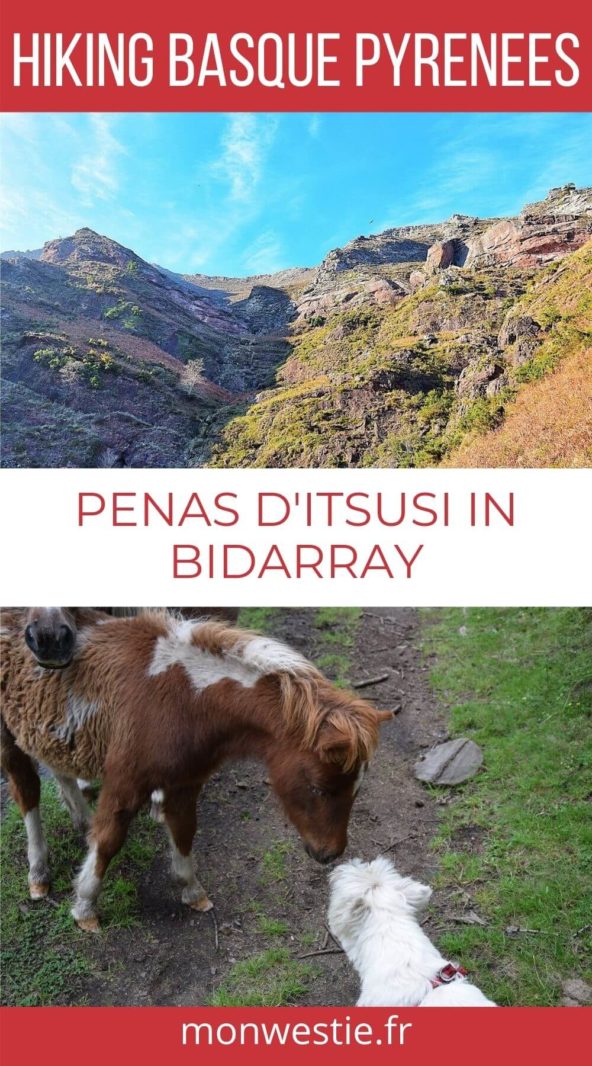 How to plan your Bidarray France 'Penas d'Itsusi' Hike